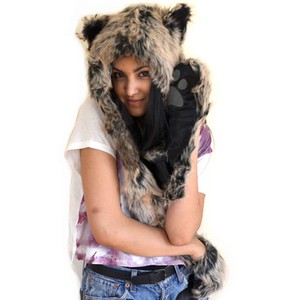 Sitting all snuggled up in my prison cell like uni room , dreading to leave my bed as it would be like facing the antartic, so I'll just stay here cocooned in my duvet for a little bit longer. It's getting colder day by day so it's essential that you wrap up, to keep yourself not only warm but to stop getting ill and to of course look on trend this season. Returning back up north for Christmas I've been nagged numerous times from my mum how cold it is and to ensure I do wrap up or I will be freezing. I never seem to like winter, I love the joy and happiness it brings, though I hate the coldness and how areas of your body you didn't think we get cold get freezing. Maybe it's time I start adding a few accessories to my wardrobe to not only add flair to my outfit, but to keep me as warm as a hot roasting fire would back at home.
We see this winter season the arrival of the all in one hat scarf and glove set, sounds strange saying it or even writing it but I assure you it's amazing and ridiculously warm.
Here I found one on
Ebay
for a mere £14, which can easily be a nice stocking filler for a family member always complaining their cold, or just to make them stylish this winter season. Not only will it keep your head warm but your ears,neck and hands too- Definitely a bonus! I highly recommend this winetr accessory not only does it look stylish but I can assure you it will keep the warmth in you, although I cant promise that you will hear your friends or family when wearing it. Though this could be a an added plus for you.
Using a variety of cosy winter essentials, I did a small photo shoot with my flat mate Cara with a difference. I did her makeup to make her seem almost theatrical like and to make her eyes stand out with the accessories. She modeled her own All in one scarf from River Island, my bear hat from Topshop which I brought a few years ago now and some Topshop gloves I found at the bottom of my wardrobe.The only downside to the gloves were that they were fingerless, although there was a section that you could fold over your fingers... But not over your thumb which I didn't understand.
Cara's hooded scarf was £30 from
River Island
, with them doing a wide range of cute hooded scarfs essential for your winter wardrobe! Its definitely worth a look!
If you know any more winter essentials,don't hesitate to comment!